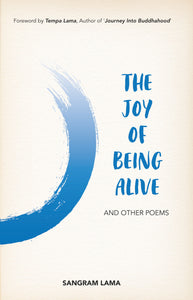 If you or your Bon Study Group are interested in purchasing 5 or more copies, please email publications@olmoling.org for pricing details. 
Sangram Lama

There are many ways to welcome the present moment. The way I follow is by letting my thoughts and emotions flow through my writing. My poems are my conscious attempt to accept the moment as it comes. The basic motif of my poems is simple: we have to accept ourselves the way we are and let our uniqueness shine. We have to love ourselves unconditionally, only then can we love others unconditionally. We think that we resist certain states of our mind and body because they are there, but the reality is they are there because we resist them. They are there because we are not letting them flow. This understanding opens the way to transformation.
Sangram Lama was born in Humla, Nepal. He came to New York in 2013 to follow his dream to be a great writer. He is currently working in an Italian restaurant as a line cook. He aims to go to college one day to study creative writing. He loves to read his poetry and play the flute for his friends and loved ones.
Oh wait, he loves to dance as well!
Paperback, 122pp, $12.50