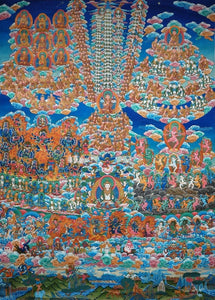 The Bon Refuge Tree depicts the lineages of Bon back to the primordial Buddha Kuntu Zangpo: the three Bon Dzogchen lineages, the lineage of the Bon Path of Transformation (Tantra), and the Bon Path of Renunciation (Sutra). It also depicts the line of Menri abbots, the compassionate beings of the Five Paths, the Nine Buddhas of the different eons, the Buddhas of the Ten Directions, the deities of the inner and outer Tantra, the Khandromas (dakinis), and Bon protectors.

The Refuge Tree supports us in taking refuge in and experiencing the blessings of the Four Jewels of Refuge: our teachers, the Buddha or our own awakened nature, the teachings of wisdom and compassion, and the community of compassionate beings. Through taking refuge we reconnect with our awakened nature and the awakened nature of all beings.
--------- 
A print of the original Olmo Ling Bon Refuge Tree Thangka painting on coated matte white paper stock.
The picture part measures 12.25 x 8.75 inches and there is an approximate 1" white border. The total measurement of this print is 14.3 x 10.25 inches.