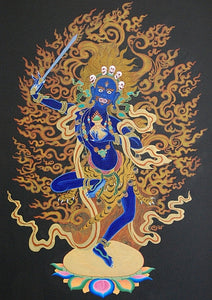 5" x 7" Yeshe Walmo card for your home altar. Color print from the original Thangka painting by Tempa Dukte Lama.
Includes the healing mantra Om A Bi Ya Nag Po Be Söd So Ha on the back. Yeshe Walmo is the healing form of Sidpa Gyalmo who is the fierce form of the Great Loving Mother.
This card can be used to support your Sidpa Gyalmo healing practice and your personal protector practice.