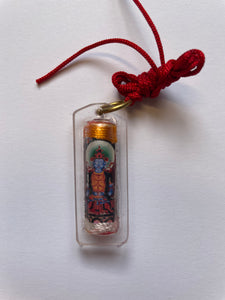 Amulet of the Bon Medicine Buddha: Our Bon Medicine Buddha amulets were blessed at an extended Medicine Buddha Ritual conducted by Tempa Dukte Lama and Geshe Chembel Gurung on October 13th, 2022. 
Approx. Measurements: ¾ x 2 inches
The amulet can be worn around the neck, carried in your pocket, or added to your home altar.
Handmade in Nepal - There may be imperfections and slight differences from the photographed product.