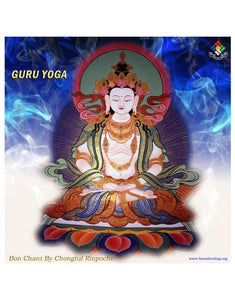 Chanted by Geshe Chongtul Rinpoche
Through the prayer to our teacher (Guru Yoga or Lama'i Nalyor) we call upon our teacher and ultimately connect with her or his awakened mind within ourselves. While chanting, visualize your teacher above the crown of your head in the form of the Awakened One Shenla Odkar, Buddha of Compassion. 
CHI TSUK DE WA CHHEN POI PHO DRANG DU
In the palace of great bliss above the crown of my head
DRIN CHHEN TSA WE LAMA LA SOL WA DEP
I pray to you benevolent root teacher
SAN GYE SEM SU TON PA RIN PO CHHE
Precious one who is the embodiment of Buddhanature
RANG NGO RANG GI SHE PAR JIN GYI LOP
Bless me that I may recognize my own true nature.
(Translated by Tempa Dukte Lama)